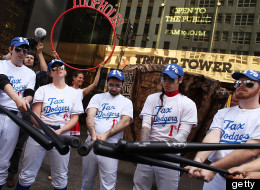 Mitt tells Ted to be civil mass firing parties are almost as fun
Ted Makes me miss the more modern Tar and Feathering still quite painful instead of OFF WITH THEIR HEADS TED NUT GENT REVEALS MITT'S Secret Agenda RICH MITT TO CLOSE FHA HOME HOSPITAL AND NURSING HOME FINANCE FOR HIS INVESTMENT BANKING BUDDIES
In honor of tax day,
Tax Dodgers and Occupy Wall Street
activists gathered outside the Trump Tower, where apparently the Donald himself is throwing a lavish
birthday party for Anne Romney
on Tuesday, decked out in baseball attire to "spend the day rubbing elbows with our favorite 1%ers and fellow Tax Dodgers."
The protest was part of a daylong event that also involves a march outside Bank of America, The Paulson Group, and Chase, all companies the activists accuse of evading taxes. A
protestor announced
to the crowd:
TED NUGENT TO PLAY HIS NEW SONG AT THE EVENT Named:
I
f Barack Obama becomes the president in November again,
I will either be dead or in jail by this time next year.